As Elevation Disc Golf's first putter, the Koi is made to float to the basket with ease. This straight to under-stable putter will hold every line you put it on, and our floppy rubber material will ensure it stops on a dime and melts into the chains. The PDGA approved Koi gives you the confidence needed to run even the most difficult putts and dangerous approaches.

ecoFLEX Rubber - Our ecoFLEX rubber is made of vulcanized natural rubber, with up to 30% recycled material made of scrap from medical industry manufacturing such as rubber gloves, or stoppers. In other words, every 1,000 discs we produce prevents 10,000 rubber gloves that did not meet manufacturing standards from ending up in the world's landfills. Although it uses recycled material, it is extremely durable due to the strong and flexible nature of vulcanized natural rubber. It is also super grippy (think pink eraser or a new shoe sole) and our stiffest material to date making it easy to pick up and start using right away, while still maintaining a flex that absorbs impact.



*Note: The purpose of this chart is to gauge how our materials compare to each other in flexibility on average. This does not portray how our materials compare in flexibility to any other materials on the market.

FLOPPY
Our discs are floppy with a purpose. A floppy disc absorbs energy on impact, limiting ricochet, roll, and skip. Since we hit something on 100% of our throws (the ground, a tree, your pal who decided to walk to their disc before you threw), it's important that your approach disc sticks where it lands. 

DURABLE
Now I know what you're thinking, if it's flexible, there's no way it can be durable. Elevation's discs are made from high-grade, rubber polymer. Similar to materials used on car tires, shoe soles, and airbags, our discs are intended to last years without losing their quality of flight or shape. We are committed to elevating every disc golfer's game through our modern, high quality design unmatched by what's currently available on the market.

TRUSTWORTHY
There's nothing worse than stepping up to a shot without confidence in your equipment. Elevation's discs were built with three goals: To be aesthetically unique, feel comfortable with every shot, and sit where they land. Built to last for years to come, Elevation Disc Golf provides dependable, quality discs with unique designs, and a sleek feel. As a small, family run business, we are dedicated to providing the best customer service and bringing you the newest in disc golf technology.
Welcome to the Elevation family, we hope we can elevate your game. 

Elevate Your Approach Game
The approach game is one of the most important and consistently overlooked aspects of disc golf. It requires precision, finesse, and sometimes (if your drives are like mine), some creativity. Here at Elevation, we're dedicated to making a line of discs whose sole purpose is to sit down under the basket.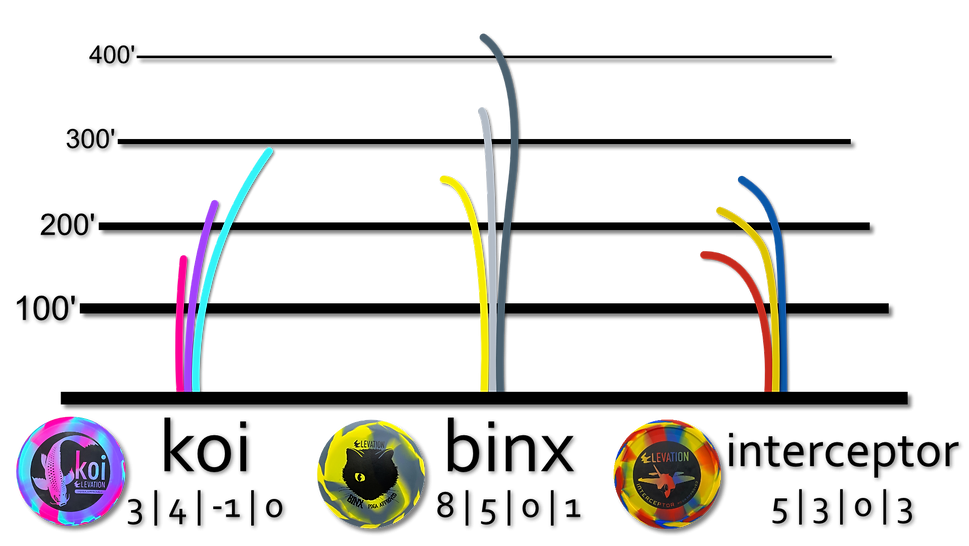 Specifications
Approved Date: Apr 19, 2021
Max Weight: 175.1gr
Diameter: 21.1cm
Height: 1.8cm
Rim Depth: 1.4cm
Rim Thickness: 1.1cm
Inside Rim Diameter: 18.8cm
Inside Rim Diameter: 18.8cm
Rim Depth / Diameter Ratio: 6.6%
Rim Configuration: 62.25
Flexibility: 0.56kg
---
Amerikansk produsent av disker og utstyr til frisbeegolf