The control distance driver designed by James Conrad himself is a reliable companion for accurate distance. Designed to complement the stability of James' Photons, the Neutron Zenith is reliably stable for players of all arm speeds - ranging from a dependable wind fighter or a laser-straight bomber, depending on arm speed.

Designed to feel as great in the hand as it flies, the Zenith is a control distance driver with flight numbers of 11 | 5 | -0.5 | 2. With a high power throw, the Zenith will exhibit just enough distance lengthening turn from a flat release before its confident fade kicks in — displaying the ideal flight pattern for a controlled distance drive. And, thanks to its subtle turn, the Zenith can shape some truly impressive lines from an anhyzer release too. Lower power players will find the Zenith to be workably overstable and dependable into any kind of wind. We have a feeling this disc is going to end up in a lot of bags, so grab a Zenith today and see what the James Conrad Line is all about!
The Zenith's flight path is characterized by a subtle, flight extending, turn at high speeds followed by a dependable fade – designed to help James Conrad carve up the demanding courses on the Disc Golf Pro Tour
High powered players will activate the Zenith's controllable turn, giving the disc great distance potential, with its reliable fade kicking in later to maximize control. The Zenith's flight characteristics allow for a variety of lines to be shaped from a multitude of angles.
Lower power players will find the Zenith to be a dependably overstable control driver. With its natural -0.5 turn allowing for more line shaping and distance potential than more truly overstable discs, the Zenith will be longer than your typical overstable distance driver but still with a dependably reliable fade.
The Zenith was designed by MVP and James Conrad to excel as a stable-overstable distance driver — when placement, distance, accuracy, repeatability, and required, turn to the Zenith.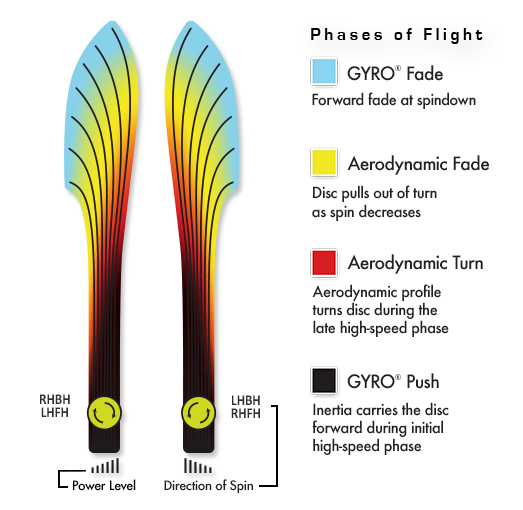 The most popular plastic
Flagship blend offering a premium look and feel
Widest selection of bright opaque colors
Shares great durability characteristics of Proton
Easy-to-find colors in any given terrain
Specifications
Approved Date: Jul 1, 2022
Max Weight: 176.0gr
Diameter: 21.2cm
Height: 1.7cm
Rim Depth: 1.1cm
Rim Thickness: 2.2cm
Inside Rim Diameter: 16.8cm
Rim Depth / Diameter Ratio: 5.2%
Rim Configuration: 27.00
Flexibility: 8.98kg
---
Amerikansk produsent av disker og utstyr til frisbeegolf.